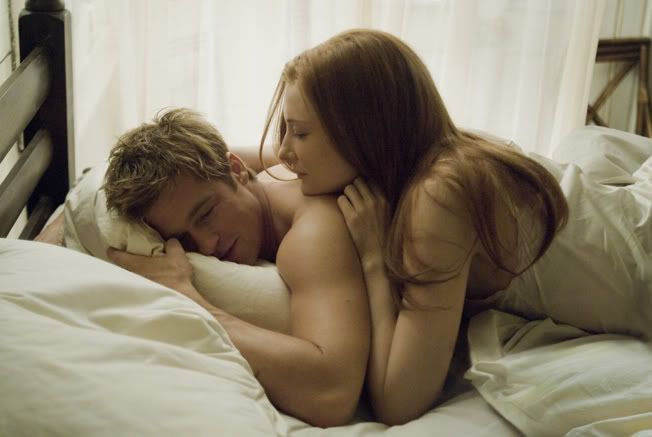 Yesterday I saw this with my new pal, Glenn (who initially
wrote this
), up in the thick of midtown. It's not that good. Although some of it is good. I left this comment on my new pal
Danny's piece
:
Finally saw this thing. And, for the most part, I agree it's a waste. It wastes yet another perfect Pitt performance, and a steady stream of too-fucking-pretty images, all in the service of some kind of fable kind of scare quotes idea of "memory" or of "time" or of "storytelling" — all under the umbrella of that idiot framing device. Ormond is kinda good, too, like Pitt, in her reserves, but, like you say, Danny, she's not quite right (like a lot of the picture). That said, it makes sense, in a way, that her story be drained of the amber and the glow and washed out (literally in the end). And with THAT said, it's not quite worth it, really, despite a few genuine moments, because every one of those is undercut by some hokey "ism" line of dialogue. Lucky though we may be for that ten minute segment of the blissful and beautiful years where everything drips sex, and lucky though we may be for all the generosity (and, yes, curiosity) of Pitt's performance, this thing, on the whole, stinks of Eric Roth's word processor. That, and, well, Fincher can't seem to let a shot last very long here; I got kinda dizzy in simple dialogue scenes with all the shot-reverse shot flip flops.

Bah. At least I saw it big. That's the only way to really appreciate how fucking gorgeous some of these CAPITAL LETTER COMPOSITIONS truly shine and shimmer
I mean, I wanted more of this type of shit, below, but that's just a preference. And yet, that still coulda worked in D-Fincher's little wannabe gemlike nugget-elephant.
--RWK