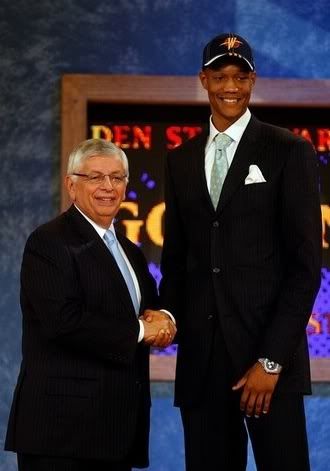 No two ways about it: I'm on the Anthony Randolph bandwagon. I don't know how many people proceed and surround me, here, but I figure there's a few of us weighing down the hitch and unbalancing things. Especially among Warriors fans. Cuz things in Oakland don't look so great right now. All we've got to vibe on is promise. And we all know promises don't mean shit. But we hope in vain--
always and forever
. To come clean: I didn't watch Randolph at LSU. I got hyped during his summer league flailings. From the little I saw, it looks like he can handle and refuses to give up his dribble; plain refuses to give up the ball. But I didn't get the sense, yet, that he's a chucker. He just feels driving, I think. And he glides as much as he jangles through the lane. He makes Cap'n Jax look like a stop-motion G.I. Joe.
Of course, Monta won't be making (most) people look like
slow motion
for a cool minute. Which sucks. And Baron's gone. Which is bittersweet. But Buike did well the other day, and Fast Andy will, I'm sure, only grow with more time on the block. We'll see how Corey Maggette's implacable will to drive meshes with Randolph and Monta in the new year, but, for now, it kinda makes sense to let a lot of offense go through him. With Monta out, Corey is easily the most talented and skilled offensive player who will see playing time. I'm ignoring Al Harrington because, well, as much as I love Donatello, he can't Superman his way to 20 and 10 with bad selection on 3 pointers only (and not using his body in the paint) and I don't see Nellie (or any fellow players, for that matter) letting the ball run through Al down low. I'm also ignoring defense, because, well, you know why. It's a weird roster. I've got my faves, of course, as highlighted by this column's patron saint (thank you, Jay Bilas) and the other young and lanky, B-Rite, who should only get/be better. But if I'm going to write about our W-men in each column, I'll try to find something more interesting to say beyond "so-and-so did so-what" as this progresses.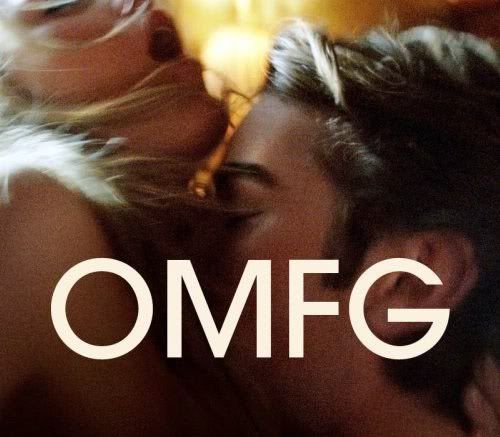 Because, patron saint or no, I do not want this to be a strict team-based journal. It will follow what I happen to watch, of course, but I trust TNT and TBS and ESPN and ABC will only let me watch so much. In fact, I don't even have cable. So unless I start hitting Triple Rock a lot, my main avenue of basketball intake will be Sunday double headers and internet highlights--which, of course, means I can write about what other people are writing about. But that can be boring, too. Here's what I'm going to try to do:
1.
Follow a few personal obsessions, which are by no means "original" or even "particular to me," like Anthony Randolph, Kobe's legs (pace Tex), Mike Beasley's goof town lifestyle, Rudy Fernandez vs Greg Oden in ROY race (at least on the Blazers), how the Blazers should march through the world heads held high, Kevin Durant's eventual and terrible and hug-him-please cries on the inside under his (we hope) growing ferocity in the fourth, hating the WNBA, hating the Celtics but loving Bill "Sky" Walker, Houston getting big with Ron Ron up front and a vegan at the point, A.I., Melo, J.R. Smith, Josh Smith, Gay-Mayo, the Spurs devolving, the new Pistons, D'antoni running the Animal Apple in 7 sex or less, Chicago's all-backcourt starting five, Joe Alexander slaying the midwest AZN broads (they got those, right?) Yi left behind all clamoring, Yi making jokes with Vince about foolin'em all, LeBron stomping, Caron slicing, D-Wade getting anywhere at any moment to put up any shot possible ignoring the Matrix of possibilities behind him, Larry Brown shackling another flier in GW, Rick Carlisle making the Mavs that much more intolerable, somebody (please, somebody) punching Carlos Boozer's ugly fucking face, Kevin Love's chin strap and Mike Miller's grease-locks, more Beno Udrih push-offs, more Julian Wright--period--and Danny Granger, too, the Turkish Delight's inevitable backslide, Brand getting big with Thaddeus, Amare bouncing past everybody and everything when Shaq rides the bench and Nash tires for good, Baron looking to pass all street a lot more, Chris Bosh getting a hair cut or make over or something.
2.
Make some jokes.
3.
Invite some dialogue. Foreal: I don't know shit. I just like the game, and the league. As with anything I write, it's chiefly for me, but, since people may read this, well, why don't we chop it up a bit?
4.
Not poach too too much, although some will be unavoidable--especially at the start--as I find my feet with this thing.
5.i.
Ask "What is basketball?" in a different way each time out.
5.ii.
For instance, this time I'm trying to show that it's stupid to plan (or even hope) for much when it comes to something (cough, life) with this many variables. You just gotta enjoy this flux of fun.
5.iii.
Keep an eye to seriousness within the nonserious discourse of a goofy blog like this one, which may manifest itself in stuff like, yes, naming life a "flux of fun", thereby invoking philosophical premises I find internal but not integral to my understanding of the game and its place as a social function--on the court, for the fans, in pick up, in relation to rap, as ritual, as theatre, as platform for what's bigger.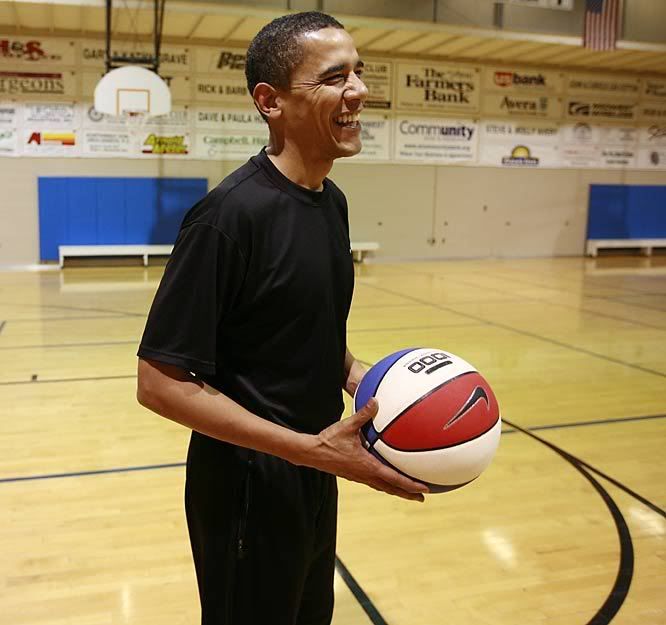 Please, tell me things.
--RWK