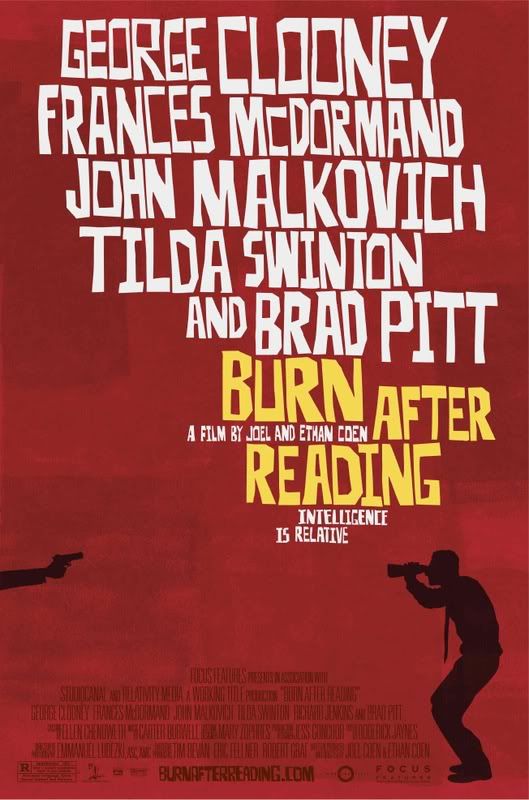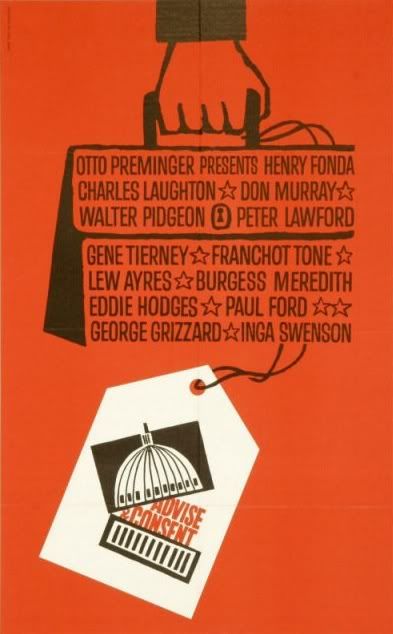 I guess a simple "homage" tag may be a better phrase than "Striking Resemblances" but I wanted to go ahead and bump up that number a bit before eventually writing about how the 2008-09 Grizzlies will resemble the 2006-2008 Hawks (only they'll be better cuz they'll be more varied and they'll have Ovinton at off-guard). But enough of that. This is about how the Coens, aside from controlling every step of production, must have a say in their marketing campaigns, too. The goofy trailer makes
Burn After Reading
look like a funny version of the DC-specific elements of
Syriana
,
Raising Arizona
-style but this poster makes
BAR
(?) look like a goofy update on this old Saul Bass creation. I guess the movie could be similar, too, in that the Preminger picture took place in DC, but wasn't that some kind of self-aggrandizing exposé type of flick -- and Pulitzer-winning book? In any event, the poster is simple, the tagline funny, and my fanboy-mode is in full gear. I trust the Coen Brothers to make a picture about the current American "intelligence" quagmire sooner than I do a lot of other pompous lefty sloganeers like, say, Stephen Gaghan or Tony Gilroy -- because they're funnier, better and, on the whole, smarter filmmakers. They know about
movement
. Among other things. Like guns and dumb blabbermouths and language and editing and hypocrisy and America and low-angle set-ups and hiring Emmanuel Lubezski for their first picture without Roger Deakins since
Miller's Crossing
. They know their shit.
--RWK