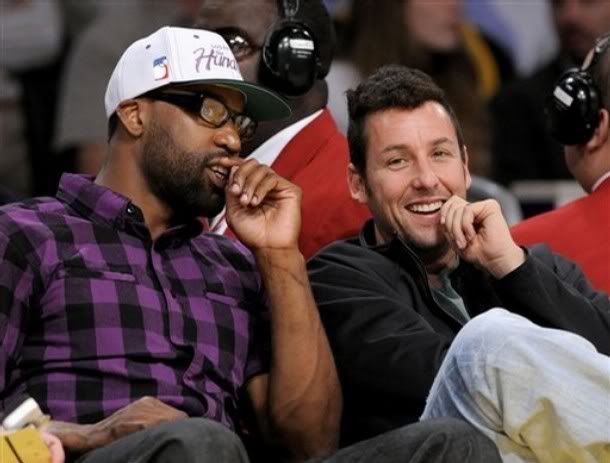 I guess Baron sitting court side with pal Adam Sandler was not just a marketing ploy for that
Zohan
thing. I guess it really was foreshadowing. Baron's going home to play ball in Los Angeles. The deal came so quick it has me wondering if Baron's been hiding his plans for a while. It would make sense, I suppose, since he's been trying to play chess with the Warriors. Anyways, it's not even official yet; just
a verbal agreement.
This whole side of sports is just kind of annoying, and I wish I wouldn't pay this much attention, but I'd be lying if I said I didn't care. So: I'll probably pay closer attention to the next phase of Baron's career, as tinselstar PG on the other LA team, because he played such an important role in the past two years of serious Warriors resurgence. And because I just like the guy. He seems to be enjoying life. You see pictures of Jordan out and about, playing pool with cigars in the corner of his mouth, but he never seemed to be having much fun on the court. It was simply a test of will. Baron's out there smiling all the time. Just last week he played in Steve Nash's soccer game wearing a hat and Reebok Pumps. And why shouldn't he smile? It's a good life.
But back to basketball for a minute. The Warriors have
made an offer to Elton Brand
. I don't think this makes much sense, at least in terms of on-court needs. With Baron gone, they should devote all their resources to Monta and Fast Andy first. Then look around for a guard, like Kirk Hinrich or Luke Ridnour. They need
somebody
to play point; they have a glut of forwards to develop; Brand would sell tickets but not necessarily improve the team long term. Besides, he wants to remain a Clipper. Further, the Warriors should realize that they playoffs aren't a realistic goal this year without some kind of star wattage replacement (which won't happen with the Wizards
offering Gil a near-max contract
).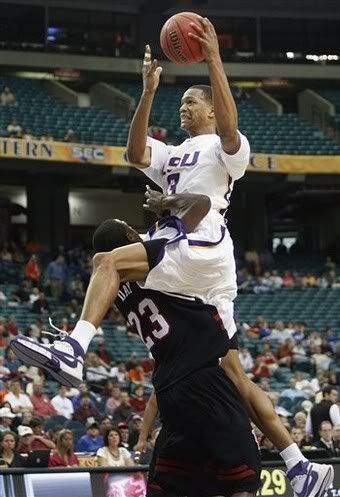 At least on paper, at least right now, the Warriors are a
weird
team: all long limbs and implacable desire to shoot, not drive, except for Monta. With the Blazers looking like they'll take over from the Spurs as the next dynasty, as well as the possible re-tooling of Denver (which would undoubtedly make them more cohesive, and better), not to mention the skill level of the Kings, and (oh yeah) the new and improved (already) Clippers, the final spot in the playoff field of eight will be hard won for whatever team pushes hardest. Don Nelson's team are renowned for pushing the break hard and fast but that continual lack of defense will catch up with them someday. Especially with a team full of young dudes known for their scoring, not defending. (Altho, to be fair, Fast Andy does a pretty good job and B-Rite can block shots with his pinky.) That's why next year all I'm hoping for (as of right now; we'll see how the summer develops) is a fearsome fast break, led by Monta and Anthony Randolph (I want to think of a nickname on my own but the only one that comes to mind is Rudolph, as in the red-nosed dude, cuz AR (wince) flies through the lane pretty well), with Cap'n Jax trailing at the 3-point line, that leads to a bunch of highlights and points off turnovers. Maybe if the W-Men stay real quick they can win more games than they're supposed to; but I still don't think they'll be enjoying the playoff glory again any time soon. Oh well. I just hope the team stays positive. With Baron gone, taking his infectious good nature with him, it might be hard. But people forget that Cap'n Jax is usually smiling, too. Like when he hit that game winner in LA late last season (in the first of a home-and-home) and cheesed all the way to commercial break.
At least we can say thanks to Baron for those highlights we did get to enjoy these past two years. And wish him continued good luck in the seasons to come. He probably needs the luck, right? That, or he needs to stretch a lot more.
--RWK